All our professionals at Dr. Miller and Dr. Gordon's maintain the highest levels of accreditation and pursue ongoing education to stay abreast of the latest trends in dentistry.
Dr. Miller and Dr. Gordon have practiced for over 30 years in Freehold, New Jersey. The doctors are dedicated to providing the highest level of dental care possible. In their quest to maintain a "cutting-edge" dental practice they built the "state of the art" dental office you now see on Route 537 in Freehold directly across from the CentraState Medical Center, where both Dr. Gordon and Dr. Miller proudly serve as chair persons for the Department of Dentistry. They are pleased to offer many advanced technologies including Digital Radiography (X-Rays). They also use an advanced rotary nickel titanium root canal system. Each treatment room is equipped with personal cable televisions for your viewing pleasure. Dr. Miller and Dr. Gordon are especially proud of two CEREC computers they use to design and fabricate 1-day porcelain crowns and on lays while you wait.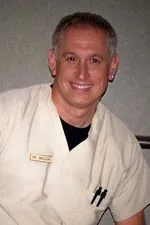 Jay Andrew Miller, D.D.S.

Dr. Miller grew up in the Mill Basin section of Brooklyn. He received a Bachelors degree in Psychology from the State University of New York at Binghamton in 1982. In 1986 he received his D.D.S. degree from the University of Maryland Baltimore College of Dental Surgery. Following dental school Dr. Miller practiced several years with his cousin Dr. Paul S. Miller in West New York, New Jersey while he and Dr. Gordon worked to establish a family oriented dental practice in Freehold.
---
Robert M. Gordon, D.D.S.

Dr. Gordon attended Stuyvesant High School in New York. He went on to receive his B.A. in Biology and Psychology from the University of Rochester. He graduated from the University of Maryland Baltimore College of Dental Surgery with Dr. Miller in 1986. After dental school Dr. Gordon spent a year at Westchester County Hospital in New York doing a general practice residency.
Dr. Gordon lives in Monmouth County and has been married to his wife Rhoda since 1990.
---
Dr. Khani Nguyen, D.D.S.

Dr. Khani Nguyen is a native of Monmouth County, NJ. She graduated from Rutgers University with high honors and a Bachelors in Biological Sciences before attending Case Western Reserve School of Dentistry in Cleveland, OH to earn a Doctor of Dental Medicine degree.
Since Dr. Khani has been practicing, she has become specialized through continuing education courses in advanced, cosmetic dentistry, implant prosthesis, and hybrid dentures. She has also become an expert with the latest technologies including CEREC crowns, cone beam computed technology, Invisalign, and implant restorations improving the results patients receive. She has a perfectionist mindset, is highly compassionate when it comes to patient care and extremely sensitive to dental phobia.
Dr. Khani is an active member of the Seattle Study Club and the American Dental Association. She is also an Associate Board Member of Casa of Monmouth where she volunteers with foster children. She currently resides on the Jersey Shore, where she enjoys playing beach volleyball with her husband, Bill. She is an active member of her church and volunteers regularly through various organizations in her community. In her free time, she enjoys art, theatre, dance, traveling and spending time with her family.
---
Our Hygiene Department

(Angie, Tracy, Kathy and Kaitlynn)